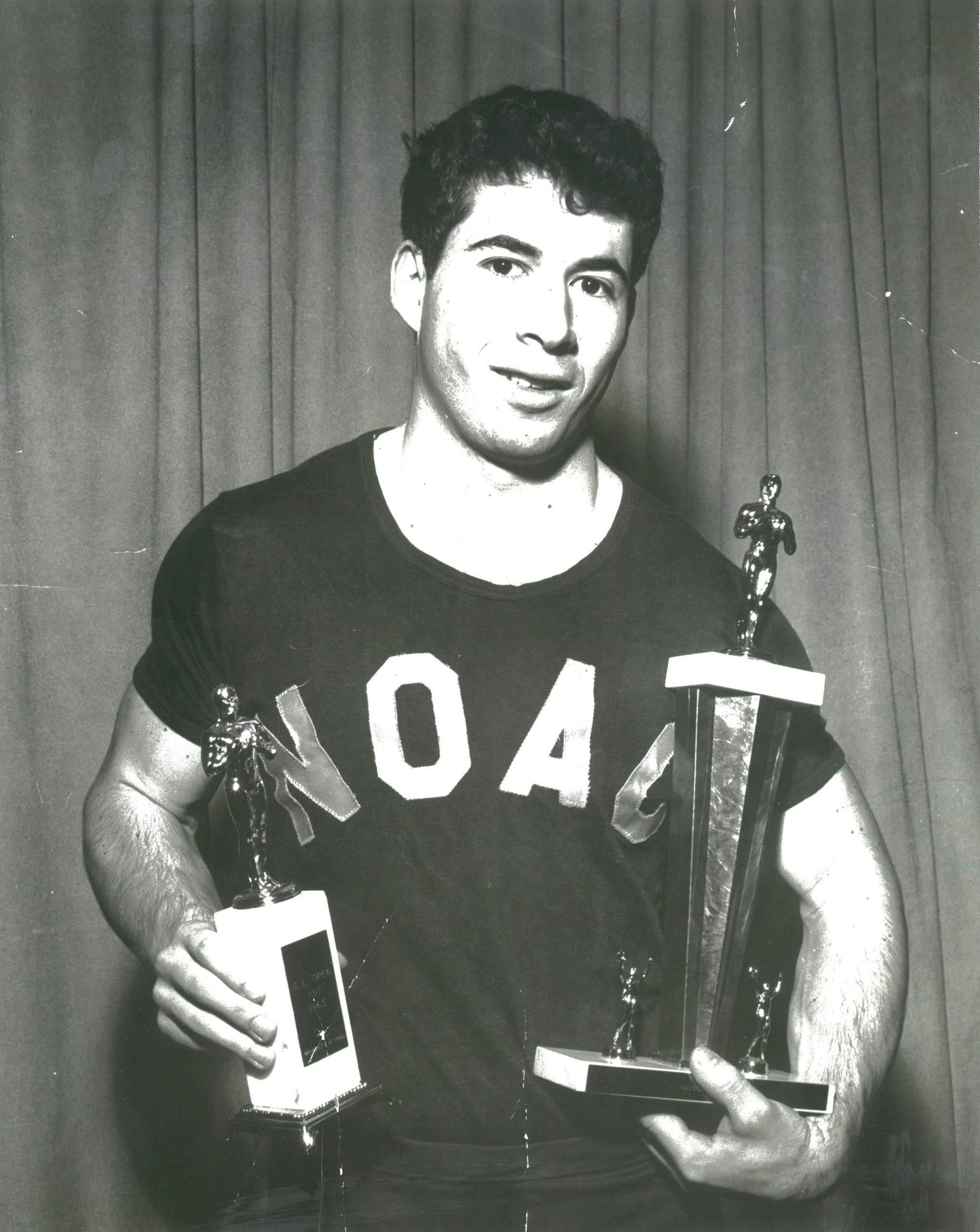 David Mark Berger was born on May 24, 1944, in Cleveland/Ohio, USA. He was the eldest child of Dorothy Berger and the physician Ben Berger. The couple later had two more children, Fred and Barbara, born in 1947 and 1950. The three siblings grew up in Shaker Heights in Cleveland, a district with a large Jewish congregation. The family led a traditional religious life and went to the synagogue. David visited the "Hebrew School" (Jewish Sunday school) for more than year before his bar mitzvah.
When David Berger was 13 years old his father took him to a weightlifting competition which immediately captured the boy's enthusiasm. His goal and his life's dream soon became clear—the Olympic Games. David's parents could not fully relate to his passion but supported him nonetheless.
Barbara Berger remembers her brother as especially intelligent, disciplined, and focussed, while being obstinate at the same time but with a good sense of humor, a pronounced sense of justice and a strong feeling of solidarity with those discriminated.
After graduating from high school he studied psychology at the elite Tulane University. Afterward the athlete left New Orleans for New York and gained a Masters degree in business administration at Columbia University in 1969. He later obtained a doctorate in law. David Berger reached this exceptional level of academic performance at the same time as achieving national success at competitions in the USA, and internationally at the Maccabiah Games, where he even broke the world record in 1969.
In New York David Berger had two dogs, Darius and Jaffa, which he loved dearly. He was a staunch pacifist and took part in demonstrations protesting against the Vietnam War. After participating in two Maccabiah Games in Tel Aviv, the young sportsman became enthusiastically interested in Israel, which he emigrated to in 1970. He never explained his decision to his family but they supposed David hoped to be able to qualify for the Israeli Olympic team. He soon spoke Hebrew fluently and gained Israeli nationality. In his leisure time he worked for the "Spivak Institute," a center for physically disabled youths. He trained at the Wingate Institute and was a member of the Tel Aviv Maccabiah weightlifting team.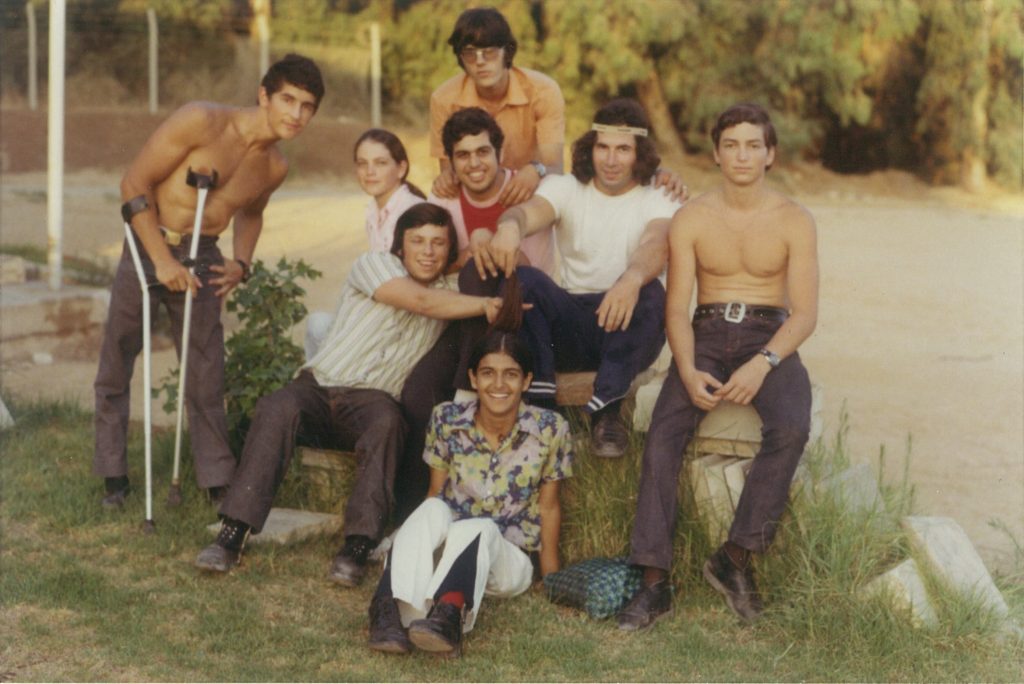 In 1972 Barbara Berger visited her brother in Israel. They traveled together to the Summer Olympics in Munich where they met up with their brother Fred. In Munich, David Berger was finally able to make his Olympic dream come true and was bursting with pride as he entered the stadium. Even after his early elimination from the competition he wanted to stay with his team in the Olympic Village and turned down the possibility of joining his siblings in a guesthouse nearby.
On September 5 David Berger was taken hostage by the "Black September" Palestinian terrorist organization in the Olympic Village along with ten of his colleagues. After two hostages were killed, and following lengthy negotiations, he was tied up together with his colleagues and flown in two helicopters to the airfield in Fürstenfeldbruck. During the failed attempt to free the athletes, the terrorists shot their hostages in the helicopters on the airfield which they blew up with hand granades. Bound up in a burning helicopter David Berger died from smoke inhalation.
After the autopsy, David Berger's body was flown by the US government to Cleveland, at the family's request, where he was laid to rest. Since then, his family has been committed to commemorating David peacefully. Prizes are donated in his name; monuments have been dedicated to him; streets named after him; local groups of various Jewish organizations have also named themselves after David Berger. A play has also been written in his honor. His great passion, however, has been maintained by his family: Barbara Berger's son David, who is the spitting image of his uncle, and David's girlfriend have now also become active weightlifters.
Text: Angela Libal, Sarah Steinborn; Research: Piritta Kleiner, Bayerisches Staatsministeriums für Unterricht und Kultus; Translation: Christopher Wynne
TWELVE MONTHS – TWELVE NAMES
50 Years Olympic Massacre Munich
To commemorate those who died during the Munich Massacre on the 50th anniversary of the 1972 Summer Olympics in Munich in a worthy and lasting manner, the twelve victims are to be remembered throughout the year 2022. Each month, one victim, his biography and fate will form the focal point. This can involve activities concentrated on one specific day or lasting the entire month.
January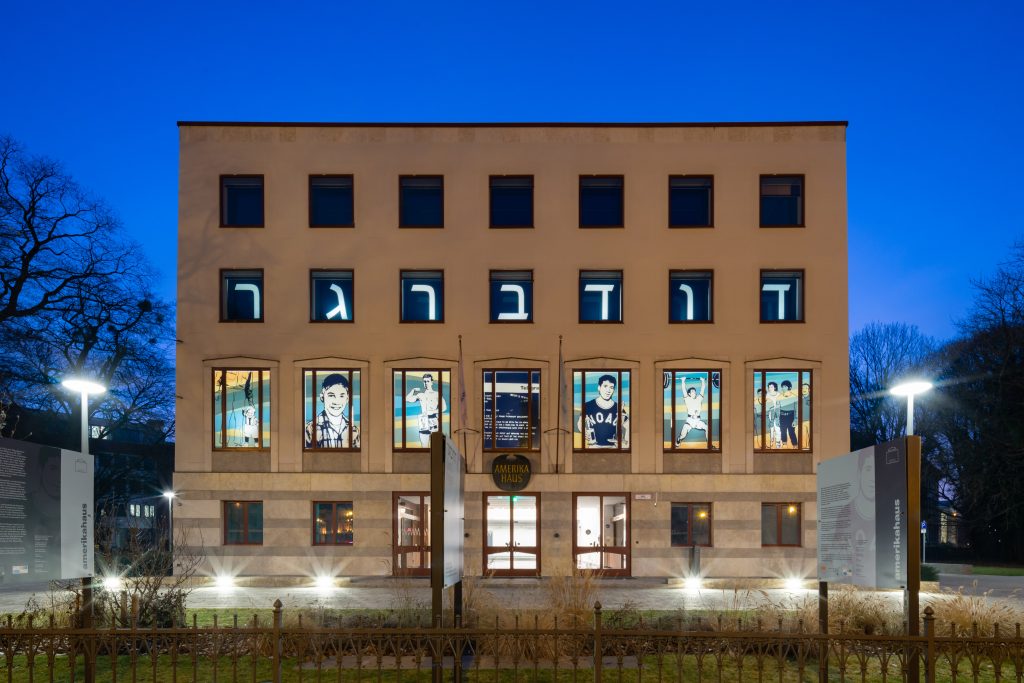 In January, the Jewish Museum Munich, the Munich Documentation Centre for the History of National Socialism, the Amerikahaus, and the Israeli Consulate General in Munich are dedicating a light installation to the weightlifter David Mark Berger. Designed by Horst Konietzny and Saba Bussmann, it can be seen every day from 4 p.m. in the windows of the Amerikahaus at Karolinenplatz 3 in Munich and is supplemented by information on steles in front of the building and an audio track that can be called up with a QR code.
Official website 50th Year Anniversary of the Olympic Games in Munich
Follow the commemorative project on our social media channels as well under the hashtag #OlympiaAttentat1972