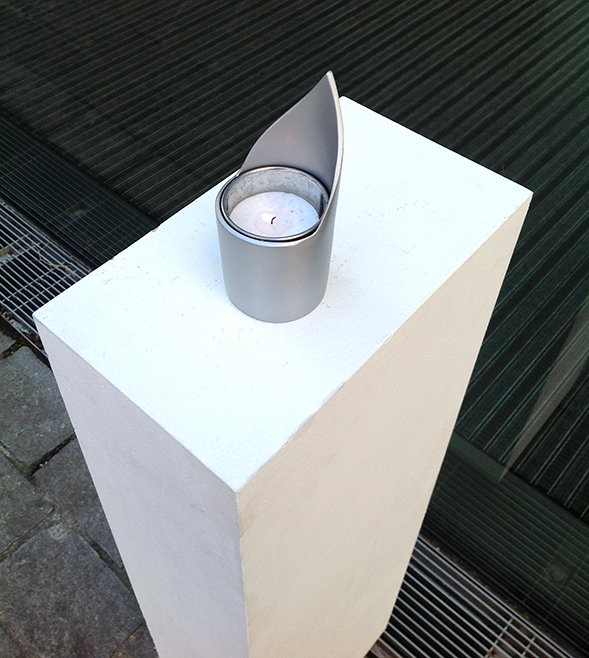 The team of the Jewish Museum of Belgium wishes to pay tribute to Myriam and Emmanuel Riva, Dominique Sabrier and Alexander Strens, victims of the terrorist attack of 24 May 2014, by organizing a candle lighting and one minute of silence thisTuesday, June 24th at 3:30 p.m. sharp, at the door of the Jewish Museum (which remains closed for the public until further notice), rue des Minimes, N° 21 in Brussels.
The Jewish Museum of Belgium, cowardly attacked within its cultural facilities, can only encourage the public to follow in its primary mission, namely, to promote knowledge and understanding of history, religion and Jewish culture through time and space, and highlight the spiritual and material wealth.
Museums preserve our collective memory and are, as open institutions, very vulnerable. Together we must ensure that museums can stay open and accessible places for everyone. Even though the Museum's team is still extremely shocked by the violence of a fanatic who tried to undo almost 20 years of activity, it should be noted that the Federation Wallonie-Brussels, Actiris made huge efforts for the opening and that the different Presidents of the museum succeeded in turning the museum into an open place of great conviviality and shared culture.
The Museum's team has had and still has Jews, Catholics, Protestants, Muslims, sufficient proof of our desire to treat all aspects of Jewry all over the world, and to fight against all forms of intolerance, especially racism and antisemitism, by advocating democratic and humanistic values.
We encourage all museums in Brussels, Flanders, Wallonia and abroad to join our initiative on Tuesday 24 June 2014 at 3:30 pm to show solidarity by placing a candle and a notice at the entrance of your museum and 1 minute of silence in memory of the four victims who fell exactly one month ago.