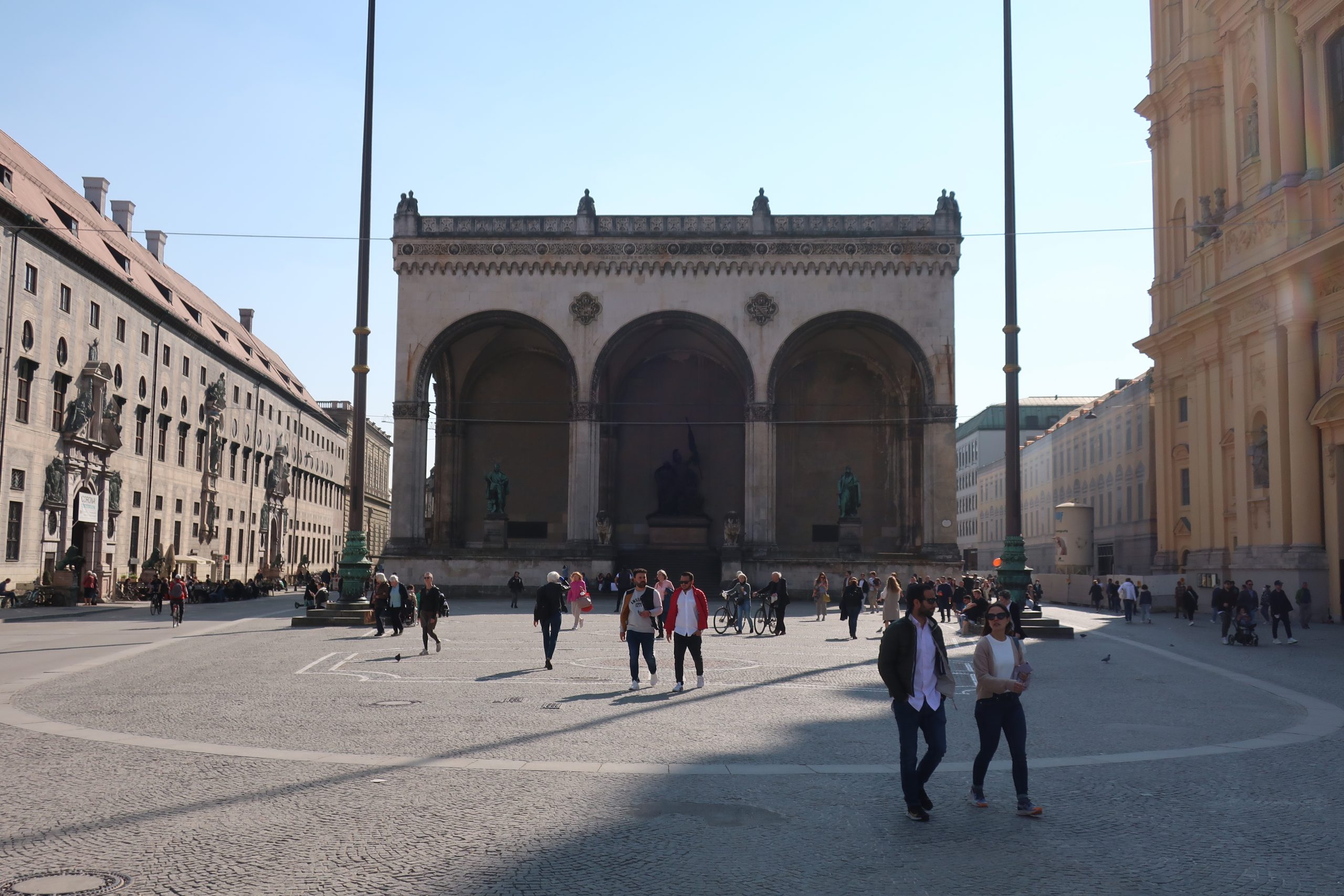 by Jacqueline Hirsh Greene
There is a heaviness to just being somewhere. Of riding a bike past the Feldherrnhalle by Odeonsplatz, of sitting on a Ferris wheel at Königsplatz, of seeing a modernist exhibit at the Haus der Kunst, which was formerly known as the Haus der Deutschen Kunst upon its 1937 opening. History punctuates through the ongoing existence of these sites.
We tend to imagine perpetrators not as people who have much in common with us, but as distant and inhuman, as monsters and Disney-esque villains. There may also be a tendency to imagine former Nazi stomping grounds as other-worldly, dystopian even. Likely this has to do with the lexicon of WWII photographs being from black and white film, making scenes from an earlier time maintain a distance from the scenes of today. Grappling with these sites now is both exciting and alarming: exciting because we can rejoice in their reducion to artifacts of a passed history, and alarming because their physicality hints at their close proximity to us that photography does, nor can-, not.
Paying a visit to liminal spaces simultaneously dissolves and underscores the distinction of past and present. These are spaces that have borne witness to the highs of victory and the lows of surrender. It is as if they are sleeping giants: with all their neoclassic grandeur, they once exhibited the stylistic perfection of a nation, and later redeemed themselves as new grounds to a different, democratic order. In their reduction to artifacts, the large amounts of wartime imagery we have taken piece by piece from public archives, spinoff films and series, school textbooks, or even family photos when they still exist, unfold in three-, rather than two-, dimensionality.
It is unlikely that central hotspots of a metropolitan city like Munich are considered liminal spaces for every passer-by. Our viewings of such spaces are only as charged and consuming as we allow them to be.
What are your liminal spaces? Which spots are the ones that peak your sensitivity towards the past?